Monday, February 05, 2007

enjoying a cuppa of
Johnnie Walker Blue Label Whiskey
Got my Blue Label just yesterday ... a hole in my pocket ouchzzz but it is super pretty and super limited ... sighzz dun even bear to open its bottle for each is being serialed and its number has been taken by me. The blue-green bottle distinguish itself from the other labels . Classic is it name and sleek is its body.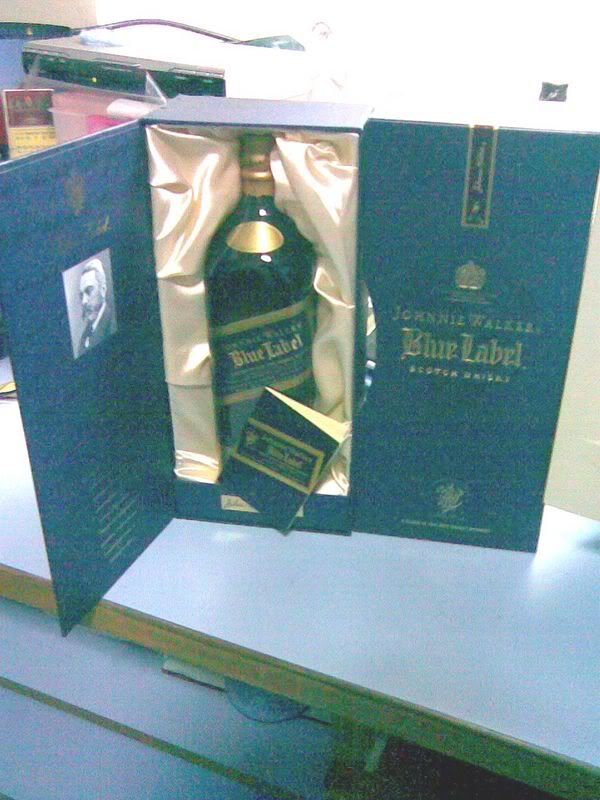 Got drunk on friday nite at cin's fren fren bday party .. We went at st. james which i was achin to see how the crowd like .. super canto i can say and the guys that we were with... erm juz as norm as any guy on the streets bah ...
I got bored hence started to ask ppl to drink with me ... and the ultimate result had way too much at a rush and aso with a empty stomach .. vomitted hlf of my gastric out for i was feelin terrible ... the 1st session that i woke up too was groggy den slept more to be better.
Woke up to meet uncle jo to simlim, targettin a new camera for his crush. Sighz such a nice guy aint he ( coz the gal he has in mind is goin travellin soon after her master, hence he decided to get her a new camera for usage during the tour ). So my consultation is required for my amateur knowledge for digicam.
*Side note last yr he bought her a nano for her bday, which she simply adore, and in the end she lost her bag. Which he den bought another nano to replace the one she had. awwww so sweet
Which we ( well mainly i coz i cant come out example out within seconds ) were ruled out by a rude sales personnal for his likin on pansonic digicam, and the lenses tht they used blah
den we went off arguing which is better for the functionality and head off to another shop. Now this one is ceonfirmed one of the nicest shops i ever went in simlim.
The sales personnal was friendly and knowledgable, he is willing to share his opinions and frank about the flaws and pros of the different camera models.
Of course we were bowed over by the attractive offer and his service and den we got it.
den off we go to look for our nxt target a brand new hdd .. jo initially wanted to get a 80gb hdd for his movies, but when i told him now 1gb cost like .50 to .80, 250gb was den decided. He even got a new pc for his parents ( initally i was told to acc him get the camera oni coz his leg was achin and wanted to grab and go, den he say "might as well get everything lor " .. Faintzzz)
While waitin, off for lunch we went. we den chatted abt our recent updates on life and my new job .. told him that i rather like the job that i am now in for i get to do a lot and learn a lot more.
And aso discussed his future plans with accenture on the different projs to take up.
So when it was approx time to collect the pc, we went tourin for a new mouse he is eyein on. Den turned out i almost got a nano too, but i rejected. Coz for the whole while i was at simlim, i was too eyein for a nano tht suit my budget and pocket.
But bein a spendthift tht i am and knowin tht fact, i just limit myself on lookin and not getting. Jo seein so, offered to get me one. Tinkin that he was oni jokin i just followed along, but end up he was serious and which i had to reject coz it cost way too much ( though it is oni 250 still ... )
he even challengenced mi to a bet on if he buys tht nano for me, i would hve to buy the mouse for him ( which is at most 69.90 ), and again i firmly rejected. All well too bad la ( but i am startin to regret it now hahaha)
AFter gettin the pc, we den waited for his dad to fetch him home coz his leg was achin alreadi and he is in no condition to bring it back.
Anyway after i head off to work for i hve tons to rush on data migration. heheh kinda like the life on doin such jobs, though tiring but still
Now waitin for tomolo to come, for i cant wait to get my new specs ( i broke my old one and wearin a super fugly one which was used when i was in secondary sch ... *pouts )
[ - 雯'§ - ] penning down @
2/05/2007 11:40:00 AM